My new book, Ultralearning, is going to be published on August 6th.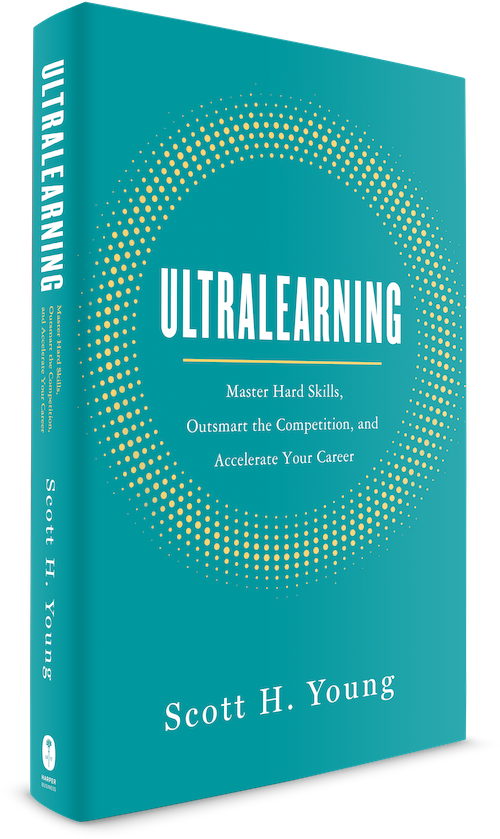 I've worked like crazy on this book for the last four years. More than just researching and writing, the topic has been the focus of my life for almost a decade, through projects like the MIT Challenge, Year Without English and more.
I think you're going to like the book. I worked hard to make the book as compelling, scientific and practical as possible. I'm very happy with the finished product, and I think you will be too.
But I Need Your Help…
The problem is that most books are ones you've never heard of. I didn't realize this until I started writing, but there are a ton of books out there. Far more than can be reasonably stocked inside a typical bookstore, or can be recommended by Amazon.
Pre-orders are really important to getting enough momentum so that other people have the opportunity to find out about the book. Early sales can convince retailers to stock the book or Amazon to recommend the book to other customers, which makes it much more likely other people will find it.
Therefore, I have a simple request: If you were thinking of buying the book when it comes out, pre-order it instead.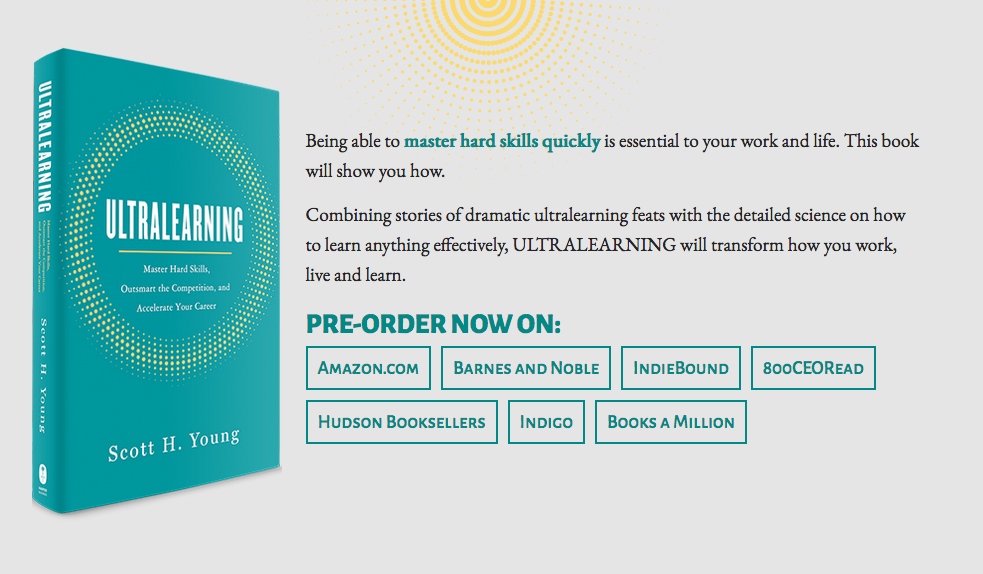 A Ton of Free Stuff I'll Give You in Return for Pre-ordering Ultralearning
Obviously this book matters a lot to me, but this is just my life, and I don't blame you if you have bigger priorities than helping me out. That's why, if you pre-order, I'm going to give you a ton of stuff you're going to like (that happens to be worth a lot more than the price of the book).
Pre-order the book before August 6th (when the book is released) and I'll sweeten the deal with these ten bonuses:
All of the ebooks I've ever written, including:
1. Learn More, Study Less.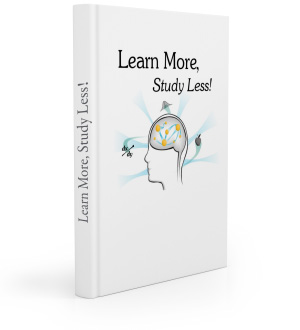 This is my most popular book I've ever sold. Despite both being about learning, ultralearning and this book cover different things, so it's a good complement rather than repetition.
2. The Little Book of Productivity.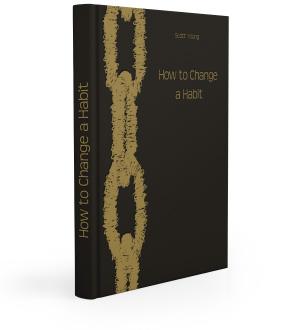 Ninety-nine ideas to help you work smarter, better, faster and do it with less stress.
3. Think Outside the Cubicle.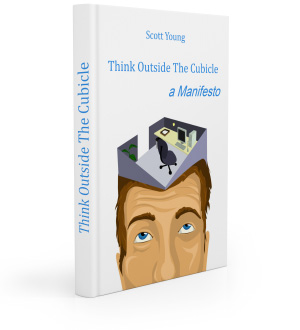 How to be productive when you don't work in an office. If you've wondered how I get things done from running a business to doing the MIT Challenge, this explains my system.
4. How to Change a Habit.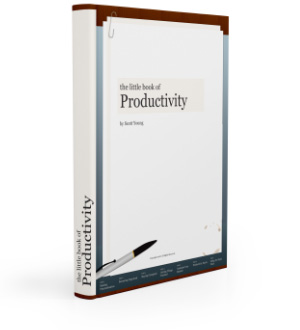 My first book and a complete guide to changing your habits. Comes with an audio companion guide as well.
Normally I would sell these for over $100 together, but I'm going to give them to you for free if you pre-order the book in any format and send me your receipt.
5. Ultralearning PDF Workbook.
I've created a companion PDF workbook to go alongside the book which can guide you through applying ultralearning to your life.
Four ultralearner interviews, where I deconstruct the learning efforts of famous experts that they haven't shared publicly before, including:
6. James Clear
On how he became a best-selling author, award-winning photographer and the intersection between learning and habits. Those who pre-order will get access to our full conversation, I'm only going to publish a snippet publicly after the book is out.
7. Cal Newport
On how he applied the ideas in ultralearning to get to top of his class in undergrad, graduate from MIT with his PhD and become a tenured professor, all while simultaneously building a successful career as a writer and author.
8. Barbara Oakley
On how she learned Russian, overcame her difficulties with math to get a PhD in engineering and built the most popular online course of all time, Learning How to Learn.
9. Tristan de Montebello
Tristan, who is documented extensively in the book, went from near-zero experience to a finalist for the World Champion of Public Speaking in less than seven months. We discuss how you can get better at less technical skills, the ultralearning way.
10. 2-Hour Private Webinar Chat.
After the book had released, I'm going to hold a two-hour private conversation, online with me for those who pre-ordered. I'll share some insights that didn't make it into the book and you can ask me any questions you'd like. I'll try to make a recording available for anyone who can't attend live.
---
Best of all, if you pre-order the book, I will give you all of this stuff right away (minus the live chat, to be held after you've had a chance to read the book), so even if the book isn't out for a few weeks, you'll have plenty of stuff to keep you busy.
I'm giving away a lot more than the cost of the book because I believe this book is my best work and I want to make sure people have a chance to see it. Your pre-order will help immensely with that, so this is just a small thank you.
Click here to see the homepage for the book and get links to pre-order. If you've already pre-ordered your copy, just attach your receipt in a message to support@scotthyoung.zendesk.com.
Want to know more about the book first? Check out the homepage where I explain what the book is about, what's in it and answer common questions.