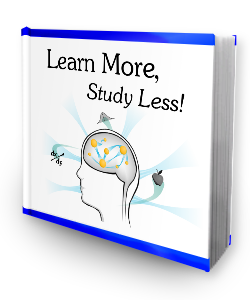 What if I told you everything you know about how to learn, study and succeed in school was wrong? If you learn like most people, it probably is.
Here are a few truths you might find hard to believe:
Learning better doesn't require studying more.
Smart people aren't gifted--they simply have a different strategy (which you can copy).
Most people have no idea how they learn things. As a result, they can't train themselves to be smart.
Different strategies make a huge difference in results. By using the strategy outlined in Learn More, Study Less, I have:
Aced University finals with little or no studying.
Scored first in an advanced inter-province Chemistry exam. Without even being aware I was needed to take the test until five minutes before writing it.
Read over 70 books each year.
Scored in the top three percentile for a national exam. Despite never having taken the course being tested.
Minimized course work to maintain an A average while running a part-time business, presiding over a Toastmasters club, exercising daily and still being able to socialize and party.
I say this not to brag, because my accomplishments are relatively modest. In researching extraordinary learners I've found people who have achieved A averages with triple the full-time course load, memorized entire books and breezed through degree programs designed to fail most people.
I'm telling you this because I believe you can do it too.
Through researching speed learners, experts in academic success and pinpointing the hidden weaknesses most students face, I've been able to come up with my own system of learning. In the program, Learn More, Study Less, you'll learn the strategy of holistic learning.
Holistic learning is basically the opposite of rote memorization. Instead of trying to pound information into your skull, you can weave it into existing understandings. By using these strategies you can actually "get" any subject you want to study.
Would you rather be a talking head that can list off facts--or would you like to fully understand everything you learn?
Over a year ago I outlined the basics of my holistic learning process to thousands of people in a series of articles and small e-books. The response was amazing! I've since received hundreds of e-mails from people with their thanks.
But beyond simple appreciation, I also received a flood of feedback. Ideas bounced off other like minds and I've been able to tweak and refine the concepts. What was an immensely popular, but crude idea, I'm proud to announce has become a detailed new system of learning. Designed to handle many of the problems you might face as a student, teacher or self-learner.
What will you be able to do with the book?
Understand how learning is supposed to work with the holistic learning strategy.
Identify your weaknesses along the 6 Stages of Holistic Learning--and get specific tools to improve them.
Learn the key studying habits to learn more in less time. Give yourself more time for starting a business, being with family or just having fun!
Be able to classify information into the 5 different formats--and know exactly what strategy to use for each.
Implement the steps necessary to make any subject fascinate you, so studying doesn't need to bore you to death.
Learn techniques such as speed reading, active reading and flow-based notetaking to understand information more quickly.
Learn the 3 core holistic learning methods that allow you to "get" any subject.
Discover how to "peg" or "compress" information to cut down study time, even on the densest courses.
Get the tools to educate yourself, so you can still learn quickly without expensive tutors and courses.
Find out how to get access to university courses--for free!
Adapt the techniques to fit your particular learning style.
Use bonus material print-outs to easily practice the new techniques.
The book is over 200 pages, easily readable on the computer screen with full-color pictures to make the book both informative and interesting. Along with the book, you will receive six bonus printout forms that enable to you to easily practice the methods in the book.
What if I don't like it? 120-Day Money-Back Promise
This approach is new and different. While I've already received hundreds of glowing reports from people who love the system, no process can be perfect for everyone. If you buy Learn More, Study Less, and aren't satisfied with the results it provides, just contact me within 120 days and I'll provide a full refund.
You have nothing to lose if the system doesn't work. But if you are committed to improving your mind, you can join the hundreds of other people who learned how to be smart.
Get the full version for 39.95