My e-mail address book is filled with friends. Many, I've never even met before. I've used my blog to connect with hundreds of people and I've formed strong bonds with dozens of them. Blogging isn't just a tool for posting your thoughts or picking up measly AdSense checks. It can be a tool to boost your career, further your business or just meet interesting people.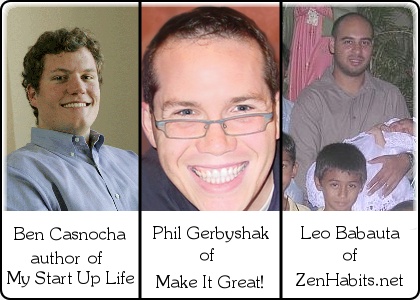 To help me with this post, I decided to ask a few questions to my own network.
Ben Casnocha, CEO of Comcate and author of My Start Up Life has used his blog as a platform for meeting tons of people.
Phil Gerbyshak is a self-professed "relationship geek" connecting with hundreds of other bloggers.
Leo Babauta of Zen Habits has combined online networking with his blog to reach out to many A-Listers, growing his site through interviews and guest posts when he was still relatively unknown.
All these people have used blogs to make friends and build relationships. Here's how they did it:
Step One: Get a Blog and Start Writing
Obviously, you can't use a blog if you don't already have one. WordPress, Blogger and TypePad are all great blogging packages. If you are a little more technically inclined, I suggest getting your own hosting (I use GoDaddy) and domain name.
With a blog set up, all you need to do is post semi-regular entries about something your interested in. Successful blogs range from near personal diaries to do-it-yourself guides. Writing has it's own rewards, but if your primary goal is to use a blog as a relationships tool, inject your personality into your writing so people get to know you.
Step Two: Comments, Connections and Contact Forms, Oh My!
The next step to building relationships through a blog is to start interacting with other bloggers. If you've just set up a blog, attracting a huge audience can be hard if you don't reach out.
Leo Babauta shares his thoughts on seeking out other bloggers:
You managed to get interviews with A-List bloggers when you were still relatively unknown. What advice would you give to other people who want to reach out to big names?

Leo – "My advice is just to be polite, enthusiastic, and friendly. Don't be pushy, and be very understanding if they say they don't have the time — the top bloggers are very busy and get tons of requests. Tell them some of the other top names who might be participating, as that might make them more likely to take the thing seriously. Tell them it will not take up much of their time — 3-4 questions at most. Be sure to tell them you'll link back to their blog, which could make the interview worthwhile. Also be sure to ask a lot of them, so that even if most turn you down, you'll get a few."
Look for other bloggers and make use of the contact form. Send the blogger an e-mail with a compliment about something they wrote or just to say hi. Give a link to your blog to show them who you are.
Step Three: Reach Out to Your Audience
Once you've been participating in the blogosphere for a few months you should have an audience of your own. Use those comments and e-mails to you as a means to establish more relationships.
Ben Casnocha explains how to do this:
How does your blog help you meet people? What advice would you give to prospective bloggers who want to use writing as a way to reach out to new people?

Ben – "When people comment on posts or email me feedback, I start to build a relationship. They only comment / email if they are engaged with the content, so I think if you want to use your blog to meet people you need to be writing engaging stuff. My advice to bloggers would be:
a) write engaging, interesting stuff
b) write frequently
c) make it really easy for people to contact you
d) encourage people to contact you."
Pay attention to the people who regularly comment on your site or send you e-mails. Even if you can't form deep relationships with everyone, getting to know your regulars will expand your social network later.
Step Four: Strengthen Those Bonds by Providing Value
Now that you've started to meet new people through your blog, the next step is to strengthen those connections. Move beyond just a screen name and an e-mail address and turn contacts into friends.
Phil describes how he does this by providing value:
How do you help your friends out to make online connections last?

Phil – "Find things that your friends value, and give it to them freely, without worrying about getting it back, and encourage your friends to do the same. Collaborate and share your strengths, and leverage each other's smarts to make the relationship better. And say thank you whenever anyone helps you, even in a small way, by being specific about the thanks."
"Also, try to celebrate your friend's birthdays, anniversaries, and the like whenever possible with them."
Relationships get strengthened by trust and familiarity. I make a point of regularly sending out e-mails to online contacts to get an update on their life. Small requests, both those you fulfill and those you ask of, help strengthen bonds too. Writing guest posts, asking for reviews or helping someone through a difficult problem are just a few of the ways you can add value.
Step Five – Moving Past E-Mail, Social Networking Sites and Face-to-Face Meet-Ups
Once you start building friendships in the online world, you might want to meet up with some of these friends in real life. This can be tricky, since online encompasses far more than your town or city, but even in the remote parts of Canada, I've been able to meet a blogging friend in person.
Ben, someone who has connected with dozens of people through his blog would be the best person to ask. When he was traveling around the world he even used his blog to find people to meet and even stay with. Here are Ben's thoughts on transforming online to offline:
What is your suggestion for going from strictly e-mail associations to an in person meet-up?

Ben – "I think you want to build as strong a weak tie as possible before moving to in-person. Then I think you want to always try to meet up with someone in their home town and at their office — make it easy for them."
Social networking sites also deserve a mention. Facebook, LinkedIn and other sites can be a great way to keep track of online connections.
As for safety in moving an online meet up into the real world, I think the fear is greatly exaggerated. There are as many scary people offline as there are online. Still, I would recommend meeting in public places for your first contact and taking Ben's advice of forming stronger bonds before making the shift.
And I'd like to thank Ben, Phil and Leo for sharing their insights to make the net a friendlier place!