New? Start Reading Here:
If you're just coming to this blog for the first time, here's what you should read first:
Best Articles by Topic
Interested in something specific? Here are some of my best work on specific topics:
Read my book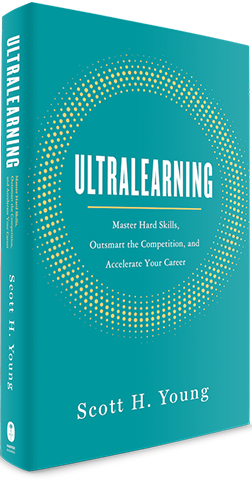 If you like what you've read, I recommend my book, ULTRALEARNING. Combining dramatic stories and detailed science, this book will give you the strategy to succeed in work, school and life:
Sign-up to hear about my courses
A few times per year, I offer course sessions to take groups of readers away from just reading and onto actually making concrete differences in how they work, learn and live. If you're interested in being a student, the best option is to join the waiting lists so you'll find out about new opportunities to join first:
The Complete Archives
Still not enough? Here's all 1300+ articles I've written since 2006.
2023 • December
2023 • November
2023 • October
2023 • September
2023 • August
2023 • July
2023 • June
2023 • May
2023 • April
2023 • March
2023 • February
2023 • January
2022 • December
2022 • November
2022 • October
2022 • September
2022 • August
2022 • July
2022 • June
2022 • May
2022 • April
2022 • March
2022 • February
2022 • January
2021 • December
2021 • November
2021 • October
2021 • September
2021 • August
2021 • July
2021 • June
2021 • May
2021 • April
2021 • March
2021 • February
2021 • January
2020 • December
2020 • November
2020 • October
2020 • September
2020 • August
2020 • July
2020 • June
2020 • May
2020 • April
2020 • March
2020 • February
2020 • January
2019 • December
2019 • November
2019 • October
2019 • September
2019 • August
2019 • July
2019 • June
2019 • May
2019 • April
2019 • March
2019 • February
2019 • January
2018 • December
2018 • November
2018 • October
2018 • September
2018 • August
2018 • July
2018 • June
2018 • May
2018 • April
2018 • March
2018 • February
2018 • January
2017 • December
2017 • November
2017 • October
2017 • September
2017 • August
2017 • July
2017 • June
2017 • May
2017 • April
2017 • March
2017 • February
2017 • January
2016 • December
2016 • November
2016 • October
2016 • September
2016 • August
2016 • July
2016 • June
2016 • May
2016 • April
2016 • March
2016 • February
2016 • January
2015 • December
2015 • November
2015 • October
2015 • September
2015 • August
2015 • July
2015 • June
2015 • May
2015 • April
2015 • March
2015 • February
2015 • January
2014 • December
2014 • November
2014 • October
2014 • September
2014 • August
2014 • July
2014 • June
2014 • May
2014 • April
2014 • March
2014 • February
2014 • January
2013 • December
2013 • November
2013 • October
2013 • September
2013 • August
2013 • July
2013 • June
2013 • May
2013 • April
2013 • March
2013 • February
2013 • January
2012 • December
2012 • November
2012 • October
2012 • September
2012 • August
2012 • July
2012 • June
2012 • May
2012 • April
2012 • March
2012 • February
2012 • January
2011 • December
2011 • November
2011 • October
2011 • September
2011 • August
2011 • July
2011 • June
2011 • May
2011 • April
2011 • March
2011 • February
2011 • January
2010 • December
2010 • November
2010 • October
2010 • September
2010 • August
2010 • July
2010 • June
2010 • May
2010 • April
2010 • March
2010 • February
2010 • January
2009 • December
2009 • November
2009 • October
2009 • September
2009 • August
2009 • July
2009 • June
2009 • May
2009 • April
2009 • March
2009 • February
2009 • January
2008 • December
2008 • November
2008 • October
2008 • September
2008 • August
2008 • July
2008 • June
2008 • May
2008 • April
2008 • March
2008 • February
2008 • January
2007 • December
2007 • November
2007 • October
2007 • September
2007 • August
2007 • July
2007 • June
2007 • May
2007 • April
2007 • March
2007 • February
2007 • January
2006 • December
2006 • November
2006 • October
2006 • September
2006 • August
2006 • July
2006 • June
2006 • May
2006 • April
2006 • March
2006 • February
Join my newsletter
Once a week, I send out a new article. Subscribers also get a free rapid-learning ebook and access to material I don't publish on the blog. Best of all, it's completely free and you can unsubscribe at any time: