I've just released my first free e-book, Holistic Learning: How to Study Better, Understand More and Actually "Get" What You Want to Learn. In an easy to read format, the book is also filled with many color illustrations to add impact to the ideas.
Download Holistic Learning Now for Free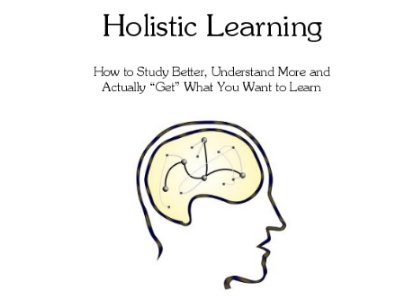 Although many of the ideas will be familiar to people who read my other articles on Holistic learning, the bulk of the content is completely new and at over 25 pages long, it has far more depth than I could devote to a blog entry. If you are a student, educator or just someone who wants to manage in our increasingly information dense world, it is worth a read.
Based on the dozens of reader comments following my original piece on holistic learning, I've made many improvements to the original concept. The first half of the book is devoted to a thorough explanation of holistic learning which introduces new ideas I've never covered before on this website.
The second half of the book is a detailed account of how to actually learn holistically. Many of the readers of the original articles commented that they liked the concept but it wasn't very practical. This section of the book remedies those concerns by focusing on the practical steps to using holistic learning without betraying the complexity of holistic learning by resorting to a list of tips.
This book is a living document subject to be changed and added. I'm setting up a page on this website devoted to books on this site which you can view here. If the book is popular, I might expand the page to adapt to the collective knowledge of what it means to learn better.
Go ahead, download the book. It's completely free, you can share it with whoever you want and I'm not going to ask for your name or e-mail address.
Holistic Learning: How to Study Better, Understand More and Actually "Get" What You Want to Learn
I'm leaving the comments section here open for anyone who wants to discuss the book.