This is the third lesson in Cal Newport and my week-long series on career improvement. Next week, we are opening our popular Top Performer course for a new session. Check out the first and second lesson here, in case you missed them.
The 10,000-hour rule, the idea that it takes about that long to get really good at anything, became popular after Malcolm Gladwell cited it in his 2008 bestseller, Outliers.
But does the research actually show that all we need is ten-thousand hours of practice to get really good? Not quite…
Anders Ericsson's work on deliberate practice was the basis for Gladwell's reporting on the 10,000-hour rule. Yet, Ericsson's research doesn't suggest that simply doing something a lot leads to reliable improvement. Instead, he found that stagnation—not progress—is typical and most people plateau far below their potential.
Violinists who went on to become concert players and those who became music teachers, for instance, did not differ significantly in the number of hours spent playing. However, the top performers spent far more time engaged in difficult, skill-pushing work, while the average players spent more time listening to music and playing songs.1
Similarly, research in medicine does not suggest that doctors get steadily better as they treat more patients. In fact, more experience might make doctors worse! They often become less effective as more time elapses since their medical school training.2
Ericsson found that the difference between growth and stagnation was a process he called deliberate practice. He defined this as practice under the guidance of a coach, along with immediate feedback about performance. Without this, performance stalls.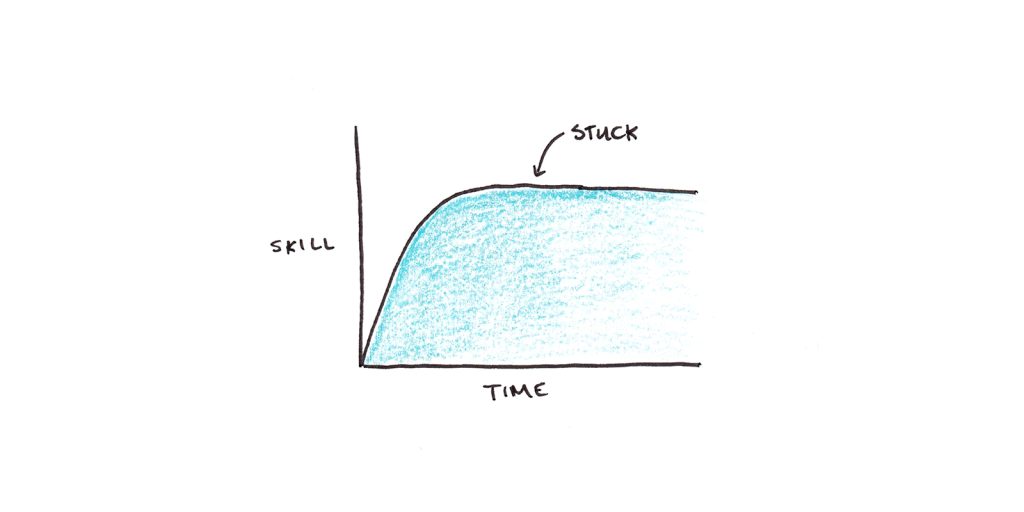 Coaching + Feedback = Improvement
Listen to this article

Coaching is often necessary because the performing and observing one's own performance can rarely be done simultaneously.
In dynamic skills, like sports or surgery, self-observation competes for limited mental resources needed for performance—which is why we're warned about overthinking. A coach acts as an outside observer to notice what we're incapable of seeing.
Even in skills that permit reflection, like writing or mathematics, improvement depends on being pointed to the knowledge and methods you lack. By definition, these can't be the things you already know, so a coach or tutor can step in to provide them for you.
Feedback is necessary because high performance depends on the subtle tuning of our skills. This tuning process requires reinforcement based on timely, accurate feedback from the environment.
How to Structure Your Improvement Environment
Making improvements in your work is easier said than done. While it's easy to picture coaching for a golf swing or a chess play, it's harder to envision it for leading a team meeting or pitching a client.
Indeed, the difficulty of managing the day-to-day concerns of the work was one reason Anders Ericsson drew a sharp distinction between performance and practice. It's impossible to focus on improvement and learning when your entire attention is devoted to doing the job.
Yet, there's also a risk of focusing your improvement efforts on something completely detached from your work. Unless you're certain you've isolated the exact skill that needs improving, it's easy to work on things that are irrelevant to your career capital. You can spend hours memorizing syntax, even though that isn't what makes programmers excellent. You can perfect your public speaking, even though being good at listening attentively is more useful for leadership.
How do you make progress?
In Top Performer, Cal Newport and I argue that the key is creating—and executing—a deliberate practice project. This project should push your skills. It should be on the edge of your comfort level, forcing you to raise the level of your craft or acquire a new ability. At the same time, it should be designed to ensure you can get quick feedback and guidance, so you're not flailing around aimlessly.
Today's Homework
Designing a good project takes some serious thinking—especially if it's a project you'll actually do, not just daydream about. The starting point to any good project is to generate some ideas.
In the comments, write down one activity you could do that would improve an important skill in your career.
In the last lesson, I'll dig deep into why we should care about career improvement in the first place. If you are ready to invest in strategic projects that will help you level up in your career, Cal Newport and I are opening a new session of Top Performer on Monday.
Footnotes
Ericsson, K. Anders, Ralf T. Krampe, and Clemens Tesch-Römer. "The role of deliberate practice in the acquisition of expert performance." Psychological review 100, no. 3 (1993): 363.