In the last three lessons, I've discussed the importance of focusing on the career capital that drives people's success, the logic of supply and demand that explains why rare and valuable skills matter so much, and the crucial importance of correctly identifying the path forward so you don't burn yourself out working on the wrong things.
Today, I'd like to shift and talk about how you can get good at the skills you need to flourish in your career.
Anders Ericsson and the Legacy of Deliberate Practice
Listen to this article

Few psychologists contributed more to the study of expertise than Anders Ericsson. His work studying world-class performance began with a simple memory study.
Digit-span tasks have long been a staple in cognitive psychology research. These are simple tasks where a subject is presented with a list of numbers and then asked to recall as many as they can remember. A famous finding from this type of task is that most people can recall between five and nine digits.
Typically, subjects get little practice on this task. Ericsson, however, worked with a single subject and repeated the same task over many sessions. The result? The subject's digit span exploded—he could recall over 100 digits at the end of their long training sessions.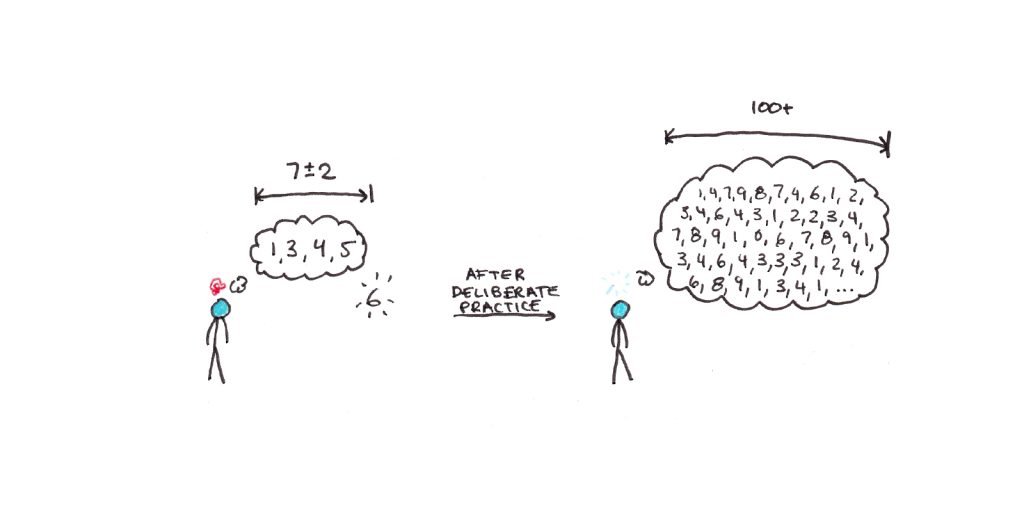 In this particular subject's case, he invented a mnemonic system using running times (he was an avid runner) to recall far more digits than his memory would typically allow.
This experience led Ericsson to a long career studying the effects of large quantities of focused practice on human performance. Experts of all stripes, from doctors to musicians, can achieve things that would overwhelm the minds of novices through these sustained efforts.
Ericsson's research was a crucial inspiration for Cal Newport and me when we began working on Top Performer. Given the connection between world-class skills and an excellent career, we were interested in seeing how this model of deliberate practice could apply outside of the laboratory, tennis court, or music conservatory—how it could apply to professional areas where such practice efforts weren't the norm.
Applying Deliberate Practice to the Office
There are three basic ingredients to acquire any complex skill:
You need to understand how the skill works. This mostly comes from learning from other people's examples, so you're not reinventing the wheel and are using current best practices.
You need a lot of practice. Practice lets you perform skills more quickly and automatically. Ericsson's obsession with deliberate practice stemmed from the seeming removal of a hard psychological limit on human performance, just by practicing a lot.
You need corrective feedback. Understanding how a skill works and doing it a lot is generally insufficient to get extremely good—corrective feedback that identifies what you're doing wrong and offers a replacement is usually needed to continue to improve.
Ericsson's definition of deliberate practice involves focused training sessions away from the demands of productive work. In these sessions, you would pay attention to a key aspect of your performance. Coaching would almost always be required because, otherwise, it's hard to get adequate corrective feedback.
Such a definition of deliberate practice makes a lot of sense in tightly controlled, high-performance domains such as chess, music or athletics. But what do you do to get better when your job is, as one former Top Performer student put it, "to basically answer emails all day?"
Designing a Deliberate Practice Project
Professional skills in real environments are not the same as highly-controlled variables in laboratory studies. Thus, when building rare and valuable career skills, getting the exact kind of deliberate practice Ericsson identified as crucial for world-class skill development is often difficult.
At the same time, we need to avoid the trap of simply accumulating seniority if we want to accelerate our careers. Many practitioners, even ones with years of experience, aren't exceptionally proficient. Despite years of experience, their skills can stop progressing if they lack a suitable training environment.
Cal and my solution to this dilemma in Top Performer was to guide students in designing a deliberate practice project. This type of project combines a few elements:
It should be focused and specific—not just routine work, but something "extra" that will force your skills to a higher level.
You should have an opportunity to study from examples to see how the best do it. Figuring out everything on your own is slow, so a good project begins with a clear picture of how the skill you're trying to improve works.
You should be able to get clear feedback that can drive your progress.
Designing a good project is not trivial. You need to find something that is a good fit for the career capital you want to develop. Then, you need to focus your project so that improvement is possible—while keeping it relevant to your working life. Finally, you need to do the work. Each step has its challenges.
However, as we've seen with past cohorts from Top Performer, students can succeed with these kinds of projects, and their newly developed skills help them make strides in their work. Students have used projects to land new jobs, get promotions and raises, and become better at their professional craft.
I hope you've enjoyed this lesson series drawn from our course, Top Performer. In the full eight-week program, we go into much more detail on how to build a career you love. I hope you'll consider joining us for our next session!