I just finished writing my newest e-book, How to Change a Habit. The book has over eighty pages of content, with full-color illustrations, detailing exactly how to change a habit. The book is being published by Lulu and costs 14.99 USD.
Buy the Book Here
Get a Sneak Preview for Free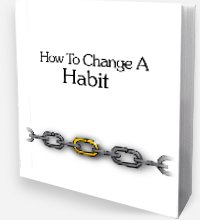 Writing the e-book has been a great experience, as I finally got to compile a much more extensive look at how to change habits than I possibly could have represented in Habitual Mastery alone. It's been over a year since I wrote those five short articles, and I've done a lot more research and practice to improve on the methods I outlined back then.
Here's a few of the ideas presented in the book:
Basic/Advanced Techniques – The book covers from the extreme basics to get you started right away and builds up into the advanced techniques I've found helpful when making tricky changes.
Outline of the First Thirty Days – I consider the thirty day trial to be a good basic start for changing habits. In this book I've given a more detailed breakdown of how the first thirty days actually work, what to expect and how to avoid many of the mistakes I made when I started using them.
Triggers – An advanced technique I've put together from various sources and experimentation, I've found it really helpful in making a change stick more easily.
Replacement Theory – Although I dabbled in the idea of replacement in Habitual Mastery, I go into more depth in when and how you should use this. I've also included personal examples from my own life of how I use replacement theory to make changing habits easier.
Operant Conditioning – Psych buff's will probably have heard of this before, but here I apply some of B. F. Skinner's groundbreaking research to changing habits. This is an important ingredient I completely omitted in Habitual Mastery that finally gets some deserved attention.
Achieving Goals with Habits – How do you use habit changing to achieve goals? I tackle this subject by delving into how I've broken down vague and far-off goals into concrete habit changes. Habits have always been important in goal-setting, but I haven't seen many concrete guides for how to turn your goals into a specific change of behavior.
Dealing with Logistics – How can you organize your habit changes so they actually fit in with your life? I've made changes that I couldn't sustain because they weren't practical. I offer a chapter in the book devoted to avoiding such mistakes.
Mastery – The questions you should ask yourself and thinking points to consider when making a change.
You can learn more about the e-book at it's homepage at:
https://www.scotthyoung.com/howtochangeahabit/

Or you can purchase the book from lulu.com for 14.99.
Got a Blog? Want a Free Copy?
If you have a blog, forum, newsletter or access to a media outlet and want to do a public review of How to Change a Habit, you can get a free press copy. Just give me an e-mail at hello@scotthyoung.com with your name, the web address of your site, and the readership size.
Special Thanks to the Reviewers
I'd like to offer my thanks to the people that helped review the book and the many more that offered to help. I appreciate your help in perfecting the content of the book and testing out the ideas it contains!