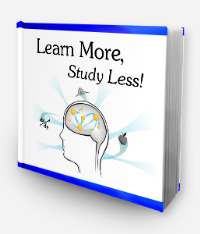 I've just started a special deal with Zen Habits and Learn More, Study Less. For the next month, if you get a copy of the book through Zen Habits, you can buy it for $19.95. This means access to the full book, all six bonus printouts and free updates for any future editions or additions to the program.
For those of you who missed the initial launch, Learn More, Study Less is a book detailing my strategy for holistic learning. Before the book went live, I did a small private experiment with less than a dozen people, getting them to try out some of the techniques. Even in the short few months since that experiment, many of the participants have thanked me for the book and noticed improvements in either how well they understand material or how much time they have spent studying.
Holistic learning has consistently been the most popular topic on this blog, so I'm glad that this arrangement with Zen Habits will get the idea out to more people. I fully suggest that anyone here who was considering reading the book, should drop by Zen Habits and get a copy. The price is 50% off and will only last until July 5th.