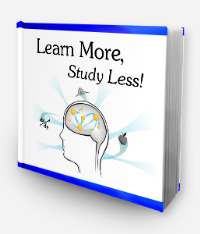 I've just finished my newest book on holistic learning, Learn More, Study Less. With over 200 full-color pages, six bonus documents and over a month spent on individualized experimenting, the program is finally ready. You can get your copy today for 39.95.
I introduced holistic learning almost a year ago in an article, How to Ace Your Finals Without Studying. The article and small e-book that followed have become the most viewed items on this website. Even today, almost a year later, I still receive many e-mails from people who were intrigued by the ideas but wanted to learn more.
Holistic learning isn't complicated, but understanding how it works is different than being able to apply it. As a result, I took a different route producing this e-book, investing more time researching and experimenting with other students. The book is almost triple the size of my last e-book, How to Change a Habit, and goes into far more depth than I could have with a smaller release.
What's Inside?
The book is split into three major parts:
Strategy
Techniques
Beyond Holistic Learning
The first section is a major expansion of my original e-book. It explains what holistic learning is, what the stages of holistic learning are and how holistic learning looks at different types of problems. I've tried to give as much depth as possible to my ideas to fill some of the gaps left in the original e-book.
The second section goes into detail explaining how to apply holistic learning. There are over a dozen techniques split into over ten chapters. This is an area completely missing from the first e-book. This section should allow you to smoothly adopt holistic learning techniques.
The third section includes a chapter devoted to productivity and another chapter on self-education. Both of these are components that fit into holistic learning, but I haven't been able to give too much detail in my regular blog writing.
Get a Free Preview
Even if you don't plan on buying the full e-book, download yourself a free preview copy. With 30 pages of content, it is larger than my original e-book and completely free. I've included a chapter on flow-based notetaking which was a popular holistic learning method with participants before the book's launch.
I'm offering a 120-Day money-back guarantee on this product. I understand holistic learning isn't for everyone, so I want to take the risk away from giving it a try.
Sign Up as an Affiliate
Link to Learn More, Study Less and earn a 50% affiliate commission. I use E-Junkie to manage affiliates, so the setup takes less than five minutes and all you need is a PayPal account. Payments are made monthly and there is no commitment.
Click here to join the Affiliate Program
Free Press Copies
If you have a medium-sized blog or website, you can get a free press copy of the book. Just send me an e-mail with your name, a link to your website and approximate readership and I'll be happy to send you a free copy. If you sign up as an affiliate you might actually get paid to read the book.