Greetings everyone, from my sunny little corner in the south of France.
I'm excited to announce that my latest (and biggest) guide is finally available. Think Outside the Cubicle is my answer to a question that has nagged me since I started writing about productivity: why does so much advice assume I work in an office?
Why are so many articles written about minor tech tricks and quirks to shave off 5-10 minutes of your day, when the strategies to eliminate hours from your day are ignored? Then it hit me, because most writers assume that the bulk of their readers are working in an office. That they have a boss, that they work 9-5 and that they exist within the unwritten rules of corporate society.
As a student, freelancer and entrepreneur, I don't work in an office. And, from speaking with many of you, I'd suspect many of you don't either. Students, freelancers, entrepreneurs or anyone working on personal projects can take huge steps that can drastically change their productivity. Often in ways that their cubicle brethren cannot.
What This Guide Will Teach You
The core idea in the book is this: the 9-5 work mentality is broken. It's broken because using time as the yardstick of your workday is ineffective. More, it's broken because many people, desperate to be productive, morph the already unhealthy 8-hour mentality into 10, 12 or even 16-hour work sessions.
Here are some of the principles I've used successfully in my life, that I discuss in the book:
Why you shouldn't work 9-5.
Why time is a poor way to manage your day (and what you should use instead).
Why working less, especially for creative tasks, results in accomplishing more.
What key things to measure to improve your performance (and what to ignore).
How I was able to boost my creative output with one simple technique.
The full guide contains 7 chapters, split into a 122-page report (beautifully designed by my good friend Vat). Although I know readers here want ideas, not word counts, just so you know, this guide is my most extensive written work to date, so you can rest assured I didn't churn this out in an afternoon.
Three Offers: Manifesto, Quick Start and Total Package
I realize that this blog has many different types of readers. Some of you aren't interested in buying anything from me ever (which is completely fine). Some of you would like to get my core ideas, but can't make the investment into a larger information product. I understand that position too. And, also, I have readers who are constantly emailing me asking me when I'll be able to deliver more stuff.
Luckily, I designed Think Outside the Cubicle to serve all three groups:
For the readers who aren't interested in paying for anything, ever, I've created a short Manifesto report. This isn't a sales pitch for the main project, just a brief outline of the core philosophy of the book. Just as with my free holistic learning ebook, I expect that many people will get a benefit from this free resource, without spending a dime.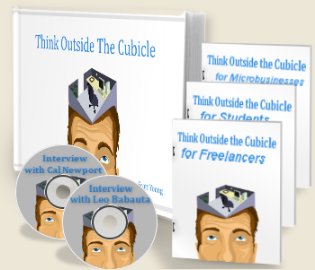 For my readers who are looking to get started immediately, but can't make the full investment into a large information product (or simply want to try it out first) you can get the Quick Start package. This contains:
The full 122-page pdf report, with illustrations, chapter navigation and previously unpublished tips I've assembled from Steve Pavlina, Chris Guillebeau, Leo Babauta and Cal Newport.
For my readers who want more, and would like more detailed advice to their specific situation, you can get the Total Package. This contains:
The full 122-page report
Ninety minutes of audio interviews with productivity powerhouse, Leo Babauta of ZenHabits, and MIT PhD, bestselling author and productivity blogger, Cal Newport.
Three bonus reports, each designed for how to apply the ideas in the main book to your life as a student, freelancer or entrepreneur.
Who Shouldn't Buy This Book
To take a cue from my friend (and book contributor) Chris Guillebeau, I'd like to explain who shouldn't purchase the book. I didn't intend to write this book for everyone, I know the best advice is tailored to your situation, so in writing this book, I decided to ignore a large section of the population.
You shouldn't read this book if:
You work from a typical office environment, and you have no interest in personal projects.
You are expecting a quick fix. This isn't a 7-page report. It's 122 pages with some ideas that, at least in my life, have completely changed how I work. These ideas will take a bit of adjustment and, as in all things, you get out what you put in.
You don't care about getting more from your work. This book is about working smarter and better. But if you're more interested in maintaining the status quo, or tweaking minor details, this book probably isn't for you.
That said, even if you are on the fence about whether the book might apply to you, feel free to download the Manifesto version. No, I'm not going to beg you for an email address in order to read it. The link is directly to the PDF, so it is my gift to you.
My Promise to You
I'm not going to promise you that you will instantly earn a million dollars with this product. I'm not even going to promise that you'll be able to only work 4-hours per week and still get everything done. Frankly, if I did promise those things, I doubt you'd believe me.
Instead, what I promise you is that, if you work to apply the ideas in the book you will be able to:
Work more effectively when you work, with less procrastination.
Relax more when you relax, without guilt.
Have the feeling of control that comes from knowing how to get more accomplished with less stress.
Like all my products, I want to take all the risk out of the transaction. If, after you buy the product, you dislike it for any reason, I will give you a complete refund, no questions asked. This refund policy is good for 120 days, so unlike those quicky refund policies that hope you'll miss the expiry date, I'm not trying to trick anyone. I only want people who got value from the guide as customers.
Get the Guide Today