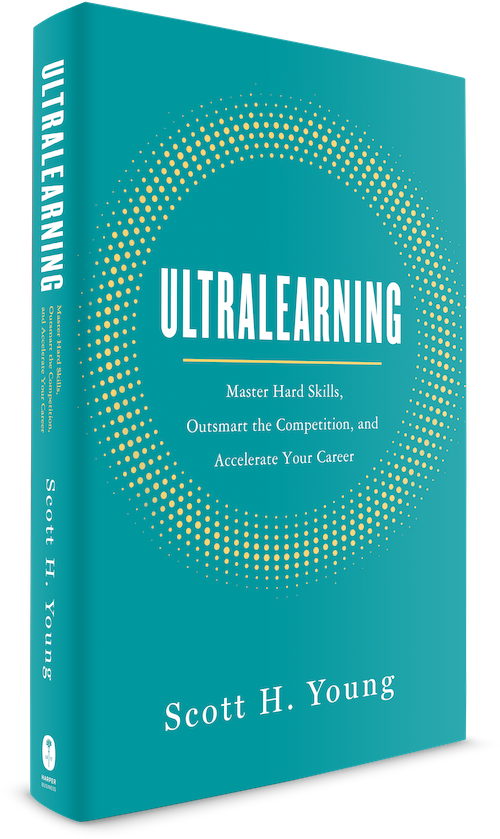 On August 6th, my new book, Ultralearning, will be published by Harper Business.
Being able to quickly learn hard skills is essential to your career and life. Going back to school often isn't an option, and even when it is, there are many important skills schools don't teach.
Ultralearning, the art of aggressive, self-directed learning, offers to fill that gap. By combining dramatic stories and detailed science, the book will show you how you can learn new skills, subjects or just get better at anything that matters to you.
I've spent over three years working directly on this book. But, in truth, this has really been the book I've been preparing to write for over a decade. Now, I need your help.
How You Can Help
As this is my first time writing a book for a major publisher, I want to do everything I can to have the book seen by more people. Publicity and marketing my work outside this blog hasn't often been my strength, so I'm hoping that you might be able to help.
If you have a podcast or blog, and would like to chat with me about the book, let me know by sending me an email at personal@scotthyoung.com.
If you work as a writer or journalist, and are interested in reviewing the book, let me know as well and I might be able to get you an early copy.
Alternatively if you know someone directly who has a podcast, blog, YouTube channel or otherwise has an audience interested in this topic, feel free to send us an email to connect about the book.
(Only if you actually know the person involved though, if you don't know the podcast host, but would like to see me on their show, you can let me know but I might not be able to book them if they haven't heard of me.)
Although you don't need to have a huge blog/podcast for me to consider, please let me know your audience size, so I can make best use of the limited review copies I have available and make sure the book gets seen by the most people.
Don't have an audience? Don't worry. I've put together a ton of stuff you'll like that I'm going to make available for those who preorder the book, I'll be announcing that soon so stay tuned!