Ultralearning: Master Hard Skills, Outsmart the Competition and Accelerate Your Career is now available.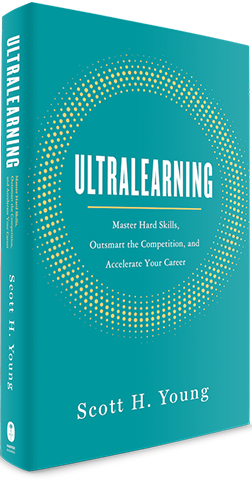 Being able to quickly master hard skills is essential to your work and life. This book will show you how to do it, drawing on dramatic stories of ultralearners and their projects, as well as detailed science on learning.
I wrote this book for two audiences. First, I wanted to introduce the ideas of ultralearning to people who haven't yet been exposed to it. Things like:
Why the approach most students take to study is lousy, and what they should do instead. (Chapter 8)
How to create a system to prevent forgetting, instead of just blaming your bad memory. (Chapter 10)
Why many efforts to learn hard skills from programming to languages to public speaking, fail despite years of effort (and what to do about it). (Chapter 6)
Second, I wanted to write the kind of book I would like to read. I've spent the last decade of my life learning how to learn, but I still managed to discover quite a few interesting pieces of research that changed how I think about learning:
We all know feedback is important to learn. But did you know that in a comprehensive meta-analysis, over 37% of studies that examined the impact of feedback on learning found a negative effect? (Chapter 9)
Focus is important for learning, but is more always better? Being more alert may have its downsides, and the level of focus you aim for may depend also on the type of learning task you're engaged in. (Chapter 5)
What is the illusion of explanatory depth, and why does it make hard subjects like math, physics or programming so challenging? What is the cognitive process behind great intuitive minds like Richard Feynman or Albert Einstein? (Chapter 11)
I've worked harder on this book than anything else I've ever written. I think if you'll read the book you'll agree. Whether you're struggling with learning or feel like you're already accomplished and just want to add a few tools to your repertoire, this book is for you.
Ultralearning is available on all major platforms including Amazon, Barnes & Noble, Audible (narrated by yours truly) and more.