Time for learning can feel like a luxury. After a long day, it often feels like there isn't energy for anything other than watching television and falling asleep. Who has time to learn philosophy, French or painting?
Yet our peak experiences come when we expand our thinking. Without learning, life is stale.
Below are seven practices that can help you make the most out of the limited time you have to learn new things. If you make them automatic, you'll substantially increase the amount of new and interesting stuff you can do—without needing heroic efforts.
1. Always have at least three books with you.
Listen to this article

A major barrier to reading more books is not having interesting reading material at hand. If you don't have any books that you're excited to finish, you can go months without reading a page.
A simple strategy here is simply to always have a good book with you. I suggest you have three: one ebook on your phone (or Kindle), an audiobook, and a physical book.
Audiobooks are good for commuting, exercising or waiting in line. Digital books can be downloaded to your phone and ensure that you have something to read at all times. Hardcover books give you the joy of paper at your fingertips when you get a longer moment to sit down.
Above all, keep the books interesting. If you have more than fifteen minutes and the thought of filling them with reading feels unpleasant, you're reading the wrong books. Get ones you can enjoy and build the habit of reading first.
2. Keep a course open on your browser tab.
In addition to having your three books, find courses that interest you on YouTube and watch them during your computer breaks.
Keeping a course open in a tab in your browser or having a highly visible bookmark gives you access to something interesting to watch whenever you have some downtime at your computer. I have a list of some of my favorite courses here.
As with book recommendations, I suggest starting with more entertaining courses and switching to headier stuff once you've built the habit. Crash courses, for instance, are faster and more visually dense than many recorded classroom lectures and thus hold your attention more easily.
3. Make your projects ready to start.
Books and courses aren't the only way to learn. Hobbies and skills require hands-on experience. Unfortunately, time spent tinkering is often the hardest to fit into a busy life.
One way to maximize your time here is to ensure all your projects are ready to start. If you can manage it, create a dedicated workspace, so all you have to do is sit down and get to work. If you can't set aside a physical area, organize your materials to keep setup and cleanup time to the bare minimum.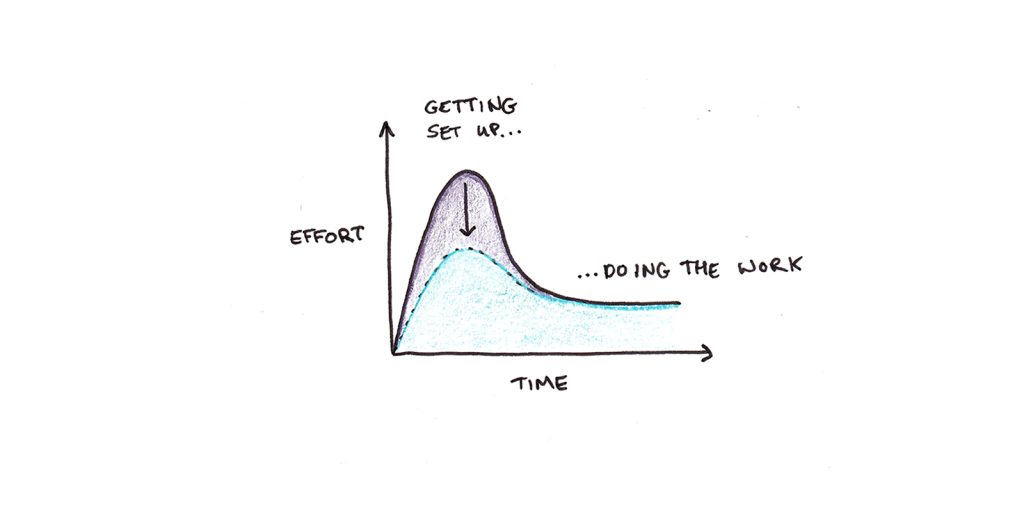 Physical setup is just one aspect of making projects ready to start. The other is getting a project past the "blank canvas" stage, which is often frustrating. A computer program, painting or woodworking project is easier to keep working on once the groundwork has been laid. Getting projects to a level where you can easily putter away at them is pivotal.
4. Take on work projects beyond your current level.
Finding completely discretionary free time is hard. If you are busy at work and have kids or other responsibilities, all you might have are fragments of time throughout your day.
Work itself can be a potent source of learning, but we sometimes need to push for it. Generally speaking, clients and employers want consistency, not growth. They want you to work on tasks you've already mastered. While many pay lip service to continuous improvement, bottom-line considerations often lean more toward stagnation than growth.
One strategy to inject more learning into your life is to regularly pursue at least one task or project that is speculative. This should be something outside of the range of your current abilities in an area you find interesting. It could be a new technical skill, leadership role, or exploring a different kind of client or industry.
Opportunities for this kind of work vary enormously, but they come only to those who seek them. If you push for learning, you'll find it.
5. Cultivate friends with shared interests.
Intellectual discussion groups have long formed the bedrock for scientific and social progress. Benjamin Franklin's junto enabled him to discuss educated topics and organize for his community. The loose association of thinkers that made up the Invisible College led to the Scientific Revolution.
Discussion groups can come in many forms. You can be like Franklin, and organize a group among your friends interested in a topic. Alternatively, you can join pre-existing groups on services like Meetup to discuss topics you care about.
In many cases, our difficulties finding time for learning aren't a literal lack of time—but a lack of a meaningful context for what we learn. We're social animals. When our activities feel isolating or useless, they're quickly sacrificed to the pursuits more likely to win us friends or solve practical problems. If you care about learning, build it into your social circle.
6. Fill time fragments with flashcards.
Many skills have a forbidding reputation. We find the idea of speaking another language romantic, but the actual act of striking up a conversation in a foreign language terrifying. We want to learn a new programming language, but sitting down and writing code is a complete grind.
A method known as pretraining can break down the difficulty of these pursuits. In this strategy, you first master the basics so that applying the new skill becomes much smoother.
Flashcards are one way to do this kind of pretraining. Memorizing vocabulary, on its own, is not enough to learn to speak another language. But it can give you a foothold so that it becomes much easier to learn (and enjoy) conversations. Similarly, memorizing syntax and commands in a new programming language won't make you a proficient coder, but it will make completing your next project much easier.
Flashcards have the distinct advantage that you can make them for your phone and practice them during small chunks of downtime. It is hard to learn anything too elaborate in this kind of fragmentary time, but it's perfect for bite-sized practice.
7. Have a "stretch" book by your bedside.
Reading before falling asleep is another great way to expand your learning time. It's also a time to try reading harder books. Since these are usually works that require some mental effort, they're also the ones that will more speedily put you to sleep.
Pick a book you've always wanted to read, but perhaps have felt intimidated by, and keep it at your bedside. You might want to read a classic work of fiction like Paradise Lost, a challenging nonfiction book or a book with personal significance.
The last moments of the day are also perfect for making a consistent ritual out of reading. The consistency makes it easier to form a habit than the more chaotic background that emerges throughout the day. Ending the day with a book can be a meditative activity to settle the mind before sleep.
What strategies do you use to maximize your learning time in a busy life? Share your ideas and suggestions in the comments!