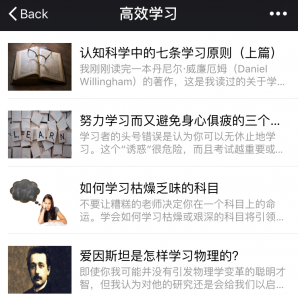 I now have a WeChat account which is posting Chinese/English versions of some of my more popular articles.
You can check them out here: Chinese version and English version
It's still fairly new, but I'll be deciding how much I want to pursue this direction depending on how popular it becomes. If you like subscribing to blogs via WeChat, or would prefer to read my articles in Chinese, please subscribe so we can get the word out.
What's the motivation behind this new effort?
After my book, Learn More, Study Less, was published in China, I gained quite a few new readers. While my blog is accessible in China, many of the features don't work and everything is in English (which makes it harder for many people to read my work).
I'm hopeful that, by offering this WeChat channel, it will be easier to communicate with my readers in China.
Still, I don't know exactly where things will be going yet. Right now we're just doing translations of existing articles, but if it gets popular enough, I may look at making more original content in Chinese.
---
现在可以在微信中阅读我的文章了!
我现在有一个微信公众号,发布我的一些热门文章的中英文版本。你可以在这里查看:
这个公众号还在起步阶段,但我会根据它的受欢迎程度来决定我在这个方向上投入多少。如果你喜欢关注微信公众号,或者更希望阅读我文章的中文翻译, 请关注这个号,帮我们将消息传播出去。
为什么要做这项新工作?
我的书《如何高效学习》在中国出版后,我收获了不少新读者。虽然我的博客可以在中国访问,但许多功能无法正常运行,而且所有内容都是英文的(这给许多人阅读我的文章增加了更多困难)。
我很希望,有了微信这个渠道,我与中国读者的交流能够更加便捷。
目前,我还不确定微信公众号之后的发展方向。现在我们只是翻译已有的文章,但如果这个号足够受欢迎,我可能会考虑用中文创作更多原创内容。